Oral Hygiene Care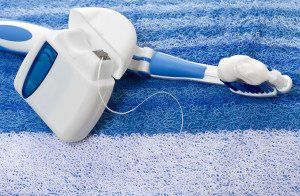 Besides making and keeping bi-annual appointments with your dentist for cleanings, keeping up your good oral hygiene practices is one of the most important things you can do for your dental and overall dental health. Brushing twice daily and flossing once daily can keep your teeth and gums in good condition, protecting you from harmful bacteria growth, tooth decay, gum disease, and gingivitis. The dangerous bacteria in your mouth can also spread to the rest of your body if not kept in check with these important oral hygiene steps. There are a number of other things you can do between your bi-annual visits that also help ensure you can arrive to your next appointment confident that there are no problems.
Follow These Tips For Better Oral Hygiene
Eat and drink right – Eating foods laden with sugar can increase the growth of harmful bacteria in your mouth, and beverage such as coffee, tea, wine, and even some fruit juice can cause your teeth to become discolored or stained.
Use fluoride toothpaste – even though fluoride is added to the tap water in most cities, and occurs naturally in many of the foods that we eat, many people still don't get enough of this important mineral. Fluoride helps to rebuild damaged tooth enamel, can help protect your teeth from the effects of tooth decay and is good for oral hygiene.
Drink fluoridated water and use a fluoride rinse – as stated above, even with the amount of fluoride in much of the food we eat, most people still don't get enough. As bottled water becomes more popular, many people are also no longer receiving the benefits of added fluoride in their tap water. If your dentist recommends that you use a fluoride rinse, be sure to follow their instructions to help your oral hygiene.
Keep your toothbrush and other items clean.  Always rinse your oral hygiene products with water after using. Try to let items air-dry and don't keep them in closed containers.
Replace your toothbrush every three to four months. Inspect regularly just in case the toothbrush has premature wear. This is an essential part of oral hygiene
If you have any questions about fluoride use or good oral hygiene practices, call Stonebridge Dental today at 972-547-0554 for a consultation. Our friendly and knowledgeable staff will be happy to answer any oral hygiene questions you might have. Our trained professional dentists keep up with all of the latest innovations and trends in good oral hygiene. We look forward to helping you keep your teeth and gums healthy, and your smile at its brightest.