Lumineers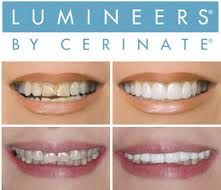 Having a brilliant, white smile is more than just a sign of good health. It can encourage you to smile fully to the world, making you appear to be a more happy and confident person. LUMINEERS® BY CERINATE® are a porcelain dental restoration that can help permanently whiten and brighten your smile. Unlike regular veneers, Lumineers are contact-lens thin, and can be placed on your teeth without any tooth shaping, drilling, or shots. They are an excellent way to brighten your smile before a wedding, class reunion, or any other special event you may be preparing for, where you want your smile to look its best and brightest.
In addition to providing you with a whiter and brighter smile, Lumineers can also correct teeth that are cracked, chipped, misshapen, incorrectly spaced, or crooked. In some cases, they may even eliminate the need for braces. Lumineers can be applied completely painlessly in just two visits. First, your dentist will take an impression of your teeth that will be sent to a dental laboratory where your custom Lumineers will be made to fit your teeth. During your second visit, the Lumineers can be applied to your teeth in under an hour, quickly improving your smile.
Lumineers are a quick, effective, and comfortable alternative to traditional dental veneers. They are both stain-resistant and durable, and can be applied over existing dental work such as crowns and bridges. This can help you avoid more costly and painful procedures to update your dental work, and can quickly give you the brilliantly white smile that you've always wanted.
Get Lumineers Now!
If you want to learn more about Lumineers, or if you'd like to find out if you're a candidate for this restoration, call Stonebridge Dental today at 972-547-0554 for a consultation. Our professional staff is well-trained in the application of Lumineers, and we'll be able to answer any questions you might have. Don't wait; let us get you on your way with a brighter, whiter smile today.